Jai Jalarambapa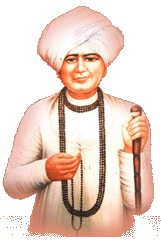 VIRPUR NEAR RAJKOT , GUJARAT (INDIA)
Virpur is a small village about 52 K.M from Rajkot.It is situated on National Highway No. 8b.This village had become holy after the birth of Shri Jalaram Bapa.It had become famous now all over the world due to events that had taken place in the life of Shri Jalaram Bapa. More over the people from all over the world come here to see the native place of Shri Jalaram Bapa and to see the "JHOLI" and "DANDA" given by god to Virbai Maa and the Original Hanumanji's Idol.The people in the village are still feeling Bapa near them and if you try to feel them with pure heart then you will also feel that Bapa is with you also.
Description Of Shri Jalaram Bapa's Temple
The "Samadhi" of Shri Jalaram Bapa is on the feet of God Shri Ram Chandra.This had enterance just on the Left side of the Big Gate of the "Dela".The "JHOLI-DANDA" which is kept in the Transparent Cup-board and Shri Hanumanji's Idol is also Placed near the "Samadhi".Due to the "JHOLI-DANDA" only, it is possible to provide two times free PRASAD and TEA to the thousands of visitor who come for the Darshan of Shri Jalaram Bapa .Here in the "DARBAR OF GOD" every one where he is "CROREPATI" or "ROADPATI" is consider same and they are offered "PRASAD" when they all sit in a same row.The "PRASAD" consist of "GANTHIA","BUNDI" and "SABJI" in morning and "KHICHADI-KADHI" and "DESHI GHEE" in evening in a traditional dish of Leaves.All visitors take this PRASAD happily.
There are three GAINT COPPER POTS in the Temple which was given by "GANGA MAIYA" filled with the "PAVITRA JAL" of Ganga, yamuna and sarawati rivers. The water from these pots never get empty.Moreover no one had suffered from any disease after drinking this "JAL".
There are pair of large wheels for grinding the wheat in the Temple given by the king of the Dhrangdhra to Shri Jalaram Bapa.

Life Story of Jalaram Bapa

Shree Jalaram Bapa was born in the year 1800 AD in the village Virpur, Gujarat. His mother, Rajbai was very fond of serving sadhus and saints. No sadhu and saint could go from Virpur without receiving the hospitality of Rajbai. Shree Jalaram Bapa's father's name was Pradhan Thakkar, who was engaged in business.
At the tender age of 16, Jalaram married Virbai, daughter of Thakkar Pragji Somajia. Jalaram was however not inclined to live household life and to continue to do business with his father. He is mostly engaged in serving sadhus and saints. He separated himself from his father's business and stayed with his uncle, Valjibhai, who was very fond of Jalaram. It was obvious that Jalaram was inclined to completely withdraw from marital life. Fortunately his wife, Virbaima decided to follow the path of Jalaram. So, when Jalaram decided to go for a pilgrimage for holy places, Virbaima followed him.
At the age of 18, Jalaram Bapa accepted Shree Bhojalram from Fatehpur as guru and was given a "Guru Malaa and Mantra" in the name of Shree Ram. With blessings of his guru, he started "Sadavrat" a feeding centre, a place where all sadhus and saints as well as the needy could have food any time during 24 hours. Nobody returned from that place without having food. All this he did single handed with Virbaima assisting him.
Soon his fame spread as an incarnation of the divine. Whoever come to Virpur, whether Hindu or Muslim was fed by Bapa. Once three Arabs in the service of Thakore of Rajkot demanded an increase in wages by four rupees in a month. Being refused, the Arabs resigned and set out to Junagadh. On their way, they hunted few birds and kept them in their shoulder bag. When they reached Virpur, Bapa asked them to have their meals and then go. When they protested that they were Muslims, Bapa said that in the court of God there was no distinction in caste and creed and they were welcome.
The three Arabs had their meals in the temple but they were embarrassed that they were carrying dead birds in their bag. The Bapa touched the bag and said that the birds were feeling suffocated. The Arabs opened the bag and found that the birds were alive. They flew away to a nearby tree. The Arabs were amazed and understood that they were in the presence of divine person. They fell at his feet and asked whether they would get a job in Junagadh.
Bapa said "What was the need to have a job in Junagadh? The Arabs serve only one master." Just at that time, a camel man sent by Thakore of Rajkot arrived there. He took back the Arabs with him saying that Thakore has sanctioned an increment of seven rupees in their wages.

There are many stories about the greatness of the saint of Virpur. Remembering the stories, we can fill the heart with devotion and gratitude.
| | | |
| --- | --- | --- |
| | | |
| | | | |
| --- | --- | --- | --- |
| 1 | VIRPUR-RAJKOT | 47 | VADALI-IDAR |
| 2 | In Our Heart Try to find it! | 48 | DHULETA-BHILOD |
| 3 | RAJKOT | 49 | BHAVNATH-BHILOD |
| 4 | AHMEDABAD-PALDI | 50 | VASAD-ANAND |
| 5 | AHMEDABAD-KHAMASA GATE | 51 | RAJNAGAR-NADIAD |
| 6 | GANDHINAGAR | 52 | ODD-DAKORE ROAD |
| 7 | GOLGAV-ANKLESHWAR | 53 | DHARMEJ-PETLAD |
| 8 | ANKLESHWAR-BHARUCH | 54 | NAAR-PETLAD |
| 9 | RAJPIPLA-BHARUCH | 55 | SANKHEDA-BARODA |
| 10 | S.T. NAGAR - NADIAD | 56 | CHHOTA UDAIPUR-BARODA |
| 11 | SURAT | 57 | UMRETH-DAKORE-NADIAD ROAD |
| 12 | SURAT-KOSAMBA | 58 | KAVITH-BORSAD |
| 13 | SURAT-BHIMPORE | 59 | PALVASNA-MEHSANA |
| 14 | UKAI-SURAT | 60 | DEESA-PALANPUR |
| 15 | BARDOLI-SURAT | 61 | DEESA-BANASKANTHA |
| 16 | AMROLI-SURAT | 62 | KARAJ-BHILAD |
| 17 | DASTAN-SURAT | 63 | KUNDANPUR-JETPUR |
| 18 | BUHARI-SURAT | 64 | GHODIYA-BHANDARA |
| 19 | SONGADH-SURAT | 65 | SANGLI-MAHARASTRA |
| 20 | RAJGARI-SURAT | 66 | MIRAJ-MAHARASTRA |
| 21 | JESPORE-BILIMORA | 67 | AMRAVATI-MAHARASTRA |
| 22 | SHIKER-BARDOLI | 68 | GHATKOPER-WEST MUMBAI |
| 23 | ANCHEELI-BARDOLI | 69 | BHATTWADI-GHATKOPER WEST |
| 24 | DANTI-NAVSARI | 70 | MULUND-MUMBAI |
| 25 | HALAR ROAD-VALSAD | 71 | GHATKOPER WEST-AGRA ROAD |
| 26 | VANSADA-VALSAD | 72 | GAUSHALA LANE-MALAD EAST |
| 27 | KILLA PARDI-VALSAD | 73 | DONGARI-BORUVALI EAST |
| 28 | DUMLAV-VALSAD | 74 | THANE-MUMBAI |
| 29 | FULDHARA-VALSAD | 75 | DOMBIVALI-MUMBAI |
| 30 | UMARGAM | 76 | JARIDIH BAZAR-BIHAR |
| 31 | UMARGAM-VALSAD | 77 | SENGHAVA- BARGON (M.P.) |
| 32 | UMARSADI-KILLA PARDI | 78 | MULTAI-BETUL (M.P.) |
| 33 | KHADKI DUNGARI-KILLAARDI | 79 | TOLIGUNJ-CALCUTTA |
| 34 | MAROLI-UMARGAM | 80 | KARSUGUDA-ORISSA |
| 35 | MASARIA-WANKANER | 81 | ARTHANI-BELGAM(KARNATAK) |
| 36 | JAM KHAMBHALIA-JAMNAGAR | 82 | KEDARNATH |
| 37 | VITHAL BAUG-BHAVNAGAR | 83 | BANGLORE |
| 38 | ANAND NAGAR-BHAVNAGAR | 84 | NAGPUR |
| 39 | DHARI-AMRELI | 85 | PANCHVATI-NASIK |
| 40 | AAPAR-KUTCHH | 86 | U.K.-LESTER |
| 41 | HATHIJAN-MEHAMDABAD | 87 | LUNNAWALA-BHARUCH |
| 42 | DAKORE-KHEDA | 88 | PATHRI |
| 43 | MEHMDABAD-KHEDA | 89 | VALSAD |
| 44 | HIRA BHAGOD-DABHOI | 90 | ATAKPARDI |
| 45 | DABHOI-VADODARA | 91 | Chicago, USA |
| 46 | VAKTAPUR-HIMMATNAGAR | | |
Bhajan And Arati..
BAPAANO ASHRO


Jalaram aashro ek tamaaro
Lage chee jag mane khaaro re.....Jalaram
Aap hi mara saachaa sadguru, sharane aavelaane taaro
Mohmaayaama lataki rahyo Chhuun
Suze na koi kinaaro re... Jalaram
Bhai bhandav kutumb kabilo, Swaarth taane kahe maaro
Daas jani mane darshan dejo
Hun chhun saav nondhaaro re... Jalaram
Chaar Divasani aa Duniyaama, Dise chhe ghor andharun
Taaraa vinaa maaro koi na sahaaro
Aadhaar ek tamaro re.......... Jalaram
Raat divas ratun naam tamaarun, Maare ghar preme padhaaro
Paaye padine bapa vinavi rahyo chhun
Hun chhun baal tamaaro re....... Jalaram
JALA BAVANI

Sorath Bhumi Pavan Dham, Virpu Name Ema Gam;
Pragatya Tya Shree Jai Jalaram Jansevanu Karva Kam....2
Rajbai Matanu Naam, Pradhanji Pitanu Naam;
Lohana Gnati Harkhay, Naam Samarta Raji Thay...4
Sant Padharya Ene Dwar, Rajbai A Kidho Satkar;
Ujjaval Thashe tari KuKh, Evu Bholya A NijMukh...6
Savant Atharso Chhapan Mahi, Kartak Sud Satamni Chhayn
Ashrivadthi Pragatya Ram,Naam Padyu Shree Jay Jalaram...8
Vrudh sant Avya Te Tham, Olkhiya Shree Jay Jalaram;
Mata Pita Swadhame Gaya, Kakane Tinya Mota Thaya...10
Savant Atharso Siter Manhi, Yagyo Pavitno Vidhi Thay;
Savant Atharrso Boter Manhi; Prabhtama Pagala Mandi...12
Kakanu Sambhade Haat, Dharm Danana Manma Ghat;
Sadhu Santne Deta Dan, Raghuvirnu A Dharta Dhyan...14
Ek Same Santono Sangh, Aavi Jamavyo Bhaktino Rang;
Jalaramni Pase Aaj, Aviya Sidhu Leva Kaj....16
Jalaram Lai Mathe Bhar, Deva Chalya Ene Dvar;
Padoshine Lagi Lhay, Te Kaka Ne Kahewa Jay...18
Vahala Kaka Do Dya Tinyay, Jinya Jalaram Devane Jay;
Gabharaman Chhtuti tevar, Pat Rakhe Chhe Deen Dayal....20
Chhana Kahiya To Chhana thay, Gheena Badle Jal Dekhay;
Padoshi to Bhotho Thay, Durijan Karmo Thi Pastay....22
Jala Bhaktne Lagni Thai, Bhitar Bari Ughadi Gai;
Yatra Karva Kidhi Haam, Pachhi Fariya ae chare Dham...24
GuruKaravane Pragtya bhav, Fatepur Jai Lidho Lhaw;
Bhoja Bhagat kidha Gurudev, Vrat le Karve Sachi Seva...26
Savant Adharso chhoter Manhi, Sada vratnu Sthapan Thay;
Virbai Sulakshna chhe Nar, Sevani RakheSambhal....28
Sadhu Santo Ave Nitya, Jala Bapani Joyi Ne Prit;
Ann Tana Nidhi Chhalkya, Badha Akhadithi Dukh Jay...30
Bapa Sauma Bhale Ram, Khauravine Le Aram;
Gada Bhari Ann Ave Jay, Sadhu Santo Khub Ja Khay...32
Tan Man Dhanthi Dukhiya Jan, Avi Nit Kare Bhajan;
Bapa Sauna Dukh Harnara, Bhed Na Rakhe, Koyi Lager...34
Thoda Janna kahu Chhu Nam, Maliyo Chhe Jene Aram;
Jamal Ghanchi Je Kahevay, Dikro Teno Sajo Thay....36
Hariji Darjine Petnu Dukh, Tali Tyan Pamyo Chhe Sukh
Mrutyu Pamyo Koli ek, Pita Teno Kargariyo Chhe...38
Bapa Haiye Karuna Thay. Ramnamni Dhun Machai
Thayo Sajivan Teno Bal, Ramnamno Jay Jay Kar...40
Punya Tapyu Bapanu Ahin, Vhalo Utaryo Avani Manhi
Kari Kasoti Magi Nar, Jova Kevu Dil Udar....42
Dhanya Dhanya Chhe Virbainar, Prabhu Sam Janyo Chhe Bharthar;
Agaya Apo Chhu Taiyar, Seva Santni Sacho sar...44
Seva Karva Gaya Sati, Jani Tribhuvana Ae Pati;
Akashvanima Sambhaday, Dhanya Jala Bhakti Ae Kahevaya...46
Dando Zodi Virbai Hath, Daine Alop Thaya Chhe Nath;
Vayak Pahonchya Virpur Gam, Saue Samarya Sitaram...48
Aaje Pan Virpur Ni Manhi, Saunse Aena Darshan Thay;
Janseva To Khubaj Kari, Tharya Saune Pote Thari...50
Savant Augnise Sadtris Manhi, Bapa Sidhavya Vainkunth Dham;
Manudas Je Bavani Gay, Dukhthi Chhuti Sukhai Thay...52
Leicester Ma Kidho Chhe Vas, Bhakatjanoni Purva Aash
Ja;a Mandal Gunla gay, Dukh Daridra Tena Jay...54
Sorath bhumi Pavan Dham, Virput Nam Ema Gam.
PUJYA JALARAM BAPAANI AARTI

Adhaar chhappan saal, Vahaalaa adhaar chhappan saal
Avanimaa avtariyaa bhajavaa ram kripaal
Om jai jaliyan jai jaliyan
Rajbaai dhanya maat vaala rajbaai dhanya maat
Abhijit nakshatre avtaryaa, paavan pradhaan taat
Om jai jaliyan jai jaliyan
Ragu vanshamaa avtar vahaalaa raguvanshamaa avtaar
Bhojal gurune dhaaryaa dhanya dhanya bhojalram
Om jai jaliyan jai jaliyan
Virpurmaa chhe vaas vahaalaa virpurmaa chhe vaas
Raam hridaymaa dhaaryaa, samaryaa shvaaso shvaas
Om jai jaliyan jai jalian
Annadaan ne aapi vahaal annadaan ne aapi
Sevak sankat kaapyaa, atal dharm sthapyaa
Om jai jaliyan jai jaliyan
Adbhut rup dhair vahaalaa adbhut rup dhaari
Ishwar dwaare aavyaa aapyaa neei naari
Om jai jaliyan jai jaliyan
Ravi deen diwali vahaalaa ravi deen diwali
Ogniso sittere stuti karun taari
Om jai jaliyan jai jaliyan
Jaiyaan avatari vahaala Jaliyan Avattari
Mohan ashtak gaave sukh aape bhaari
Om jai jaliyan jai jaliyan
Jai Sita Ram Jai Sita Ram
Jai Raadhe Shyaam Jai Raadhe Shyaam-- -- --